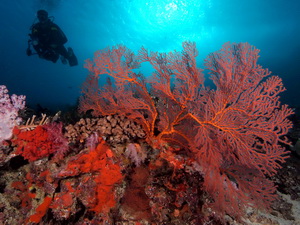 Welcome to my favorite past time, the world of underwater photography, where everything comes down to you, the camera and your subject, and diving is second nature.
My galleries are on the left column, some pictures dating as far back as 1979, when I started shooting with Nikonos III, then Nikonos V, much later switching to digital with Olympus C-4040, followed by Olympus SP-350 and now Olympus PEN E-PL2, a micro four thirds mirrorless interchangeable lens camera which offers fairly good quality pictures in a small package, very convenient for traveling.
The pictures range from macro of mostly small critters in the Dominican Republic, mid range of mostly fish portraits, to wide angle of reef or wrecks as subjects or background.
I hope you enjoy them as much as I do.
Pictures are 800 x 600 pixels and best viewed in full screen mode by hitting F11 on your keyboard.
Advance by using the navigation bar on top of the page or using the arrow keys on your keyboard.

---
10/01/2014